AURORA, Ill. – The Illinois Legislative Latino Caucus released the following statement in response to Gov. Pritzker's proactive approach to combat Donald Trump's bigoted agenda by requiring the Department of Human Services to expand access to Welcoming Centers for immigrants, refugees, and asylum seekers, ensuring they know their rights:
"Today's executive could not have come at a better time, given that Donald Trump is holding the federal government hostage unless he gets funding for his bigoted border wall. Thanks to the leadership of Governor Pritzker, Illinois is letting the country know loud and clear that we welcome all immigrants.
"This order is a step in the right direction as it will ensure that immigrant families and refugees know about the resources available to them, helping them feel safe and supported by our state. We commend Governor Pritzker for his commitment to Illinois' 1.8 million immigrants. We look forward to working with him to address the issues affecting our community by ensuring local schools get the funding they deserve, raising the minimum wage to a living wage, and expanding access to affordable health care." 
Governor Pritzker was joined by both Latino Caucus Co-Chairs state Rep. Elizabeth "Lisa" Hernandez and state Sen. Omar Aquino, as well as Assistant Majority Leader Linda Chapa LaVia, state Rep. Kathleen Willis, state Rep. Celina Villanueva, state Rep. Anna Moeller, and state Rep. Stephanie Kifowit.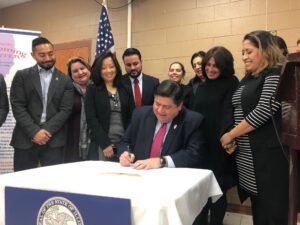 Pictured: Governor Pritzker (center) joined by state Rep. Elizabeth "Lisa" Hernandez, state Rep. Celina Villanueva, state Rep. Kathleen Willis, and state Sen. Omar Aquino
Springfield Office: 229-E Stratton Office Building Springfield, IL 62706 (217) 782-8173 (217) 558-1844 FAX
District Office: 2137 S. Lombard Suite 205 Cicero, IL 60804 (708) 222-5240 (708) 222-5241 FAX