CHICAGO – State Rep. Fran Hurley, D-Chicago, showcased the artistic creativity of local students and saluted the efforts of police and fire fighters with her 2nd annual 35th District art contest for 7th and 8th graders.
"My annual art contest is a great outlet for our 7th and 8th graders to show off their talent. This year's theme was first responders, and the art contestants did a great job showcasing the important work that police, firefighters and medical professionals do," said Hurley. "I want to thank our local students for participating in my art contest to celebrate first responders for the incredible work they do for our community, and send a special congratulations to our winners Molly, Olivia and Raven!"
Hurley is pictured (left) with Molly, a student at St. Christina School. Molly won 1st place in Hurley's 2nd annual 35th District art contest for her first responder-themed artwork. Olivia, Hurley's 2nd place winner attends St. John Fisher Elementary School, and Raven, the 3rd place winner attends Cassell Fine Arts School.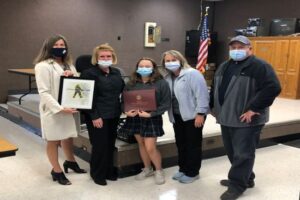 ###