LOCKPORT, Ill. – State Rep. Dagmara "Dee" Avelar, D-Bolingbrook, wants to extend her gratitude to every veteran for their bravery in honor of Veteran's Day.
"We have a sense of security in the United States because there are brave members of our military who risk their lives to protect our freedoms," Avelar said. "We come together on Veteran's Day to reflect on the great respect we have for our service members. This is a reminder to everyone that we must not only appreciate our veterans on November 11, but every day because their hard work and dedication never stops. Our veterans deserve benefits and recognition in this state, so I will continue to listen to my veteran constituents to ensure their voices are heard in Springfield."
Avelar attended the opening ceremony of the Lockport Veterans' Affairs Service Office on Nov. 9 to offer her support. The office is located at 1463 S. Farrell Road in Lockport and the office is offering assistance with compensation, employment, education, and burial benefits.  To schedule an appointment or if you have any questions please contact Veterans Service Officer Anthony Hernandez at Anthony.hernandez@illinois.gov
Avelar will continue to honor veterans this week by attending a Veteran's Day luncheon on Nov. 13 where she will highlight legislation that uplifts veterans. Avelar helped pass House Bill 1290, which expands the definition of honorable discharge to include veterans who were discharged due to sexuality or gender identity. She also passed House Bill 3865, which requires private companies that advertise service members' benefits to publicly disclose the same service for free through county Veterans' Affairs offices.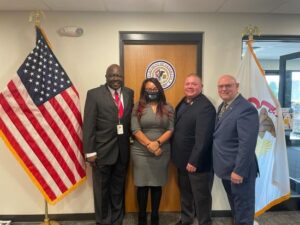 PICTURED: (Left to Right) Anthony Hernandez, Veterans' Service officer; state Rep. Avelar, Enrique Cabrera, MA, Veterans Educational Specialist III; and Mark A Patterson, Field Services Manager at the Veterans' Affairs Opening Ceremony in Lockport.
Springfield Office:
265-S Stratton Office Building
Springfield, IL 62706
(217) 782-4179
District Office:
107 W. Boughton Road
Suite B
Bolingbrook, IL 60440
(815) 372-0085