AURORA, Ill. – Following their come-from-behind victory to win the WNBA championship, state Rep. Barbara Hernandez, D-Aurora, congratulated members of the Chicago Sky on their win and on emphasizing the importance of women's sports.
"Congratulations to everyone in the Chicago Sky organization on their championship victory," Hernandez said. "This win is not just a proud moment for our state, it helps cement the crucial place women's sports hold. For too long, women's sports have been overlooked, and many girls grow up feeling neglected in this significant part of our culture. With such a high-profile win in an exciting series, the Sky are working against this harmful trend to the benefit of countless women and girls throughout Illinois."
This week, members of the Chicago Sky organization visited the General Assembly to receive recognition by House Speaker Emanuel "Chris" Welch and Governor J.B. Pritzker. Their victory marks a new milestone in Illinois athletics by helping build a more equal focus on male and female sports.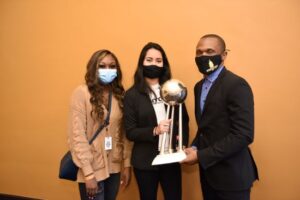 State Rep. Barbara Hernandez with Chicago Sky shooting guard Dana Evans and the WNBA Championship trophy.
Springfield Office:
266-S Stratton Office Building
Springfield, IL 62706
(217) 558-1002
District Office:
540 W. Galena Blvd.
Aurora, IL 60506
(630) 270-1848