ROUND LAKE BEACH, Ill. – As part of his efforts to combat fraud and help bring vital services into his district, state Rep. Sam Yingling, D-Grayslake, hosted a Shred Day last week with state Rep. Joyce Mason.
At the event, attendees were able to dispose of documents containing sensitive information and get rid of clutter. The Shred Day is just one part of Yingling's efforts to crack down on fraud. This session, he helped pass legislation that that keeps Illinoisans' information safe from scammers by prohibiting a state agency from disclosing social security numbers in correspondence. In the past, Yingling hosted Senior Fraud Seminars to help inform those most likely to be targeted by scams on how to spot scammers and help protect themselves.
"Especially after a year in which people are already stretched thin, the last thing residents need is to have their personal information, such as their bank statements, stolen and used for nefarious purposes," said Yingling. "One of the most important parts of my job as a representative of our community is to provide useful services, such as this Shred Day, to the public. Thank you to those who took the time out of their Saturday to take advantage of this opportunity. I look forward to continuing my work both at home and in Springfield to protect residents from those looking to defraud them."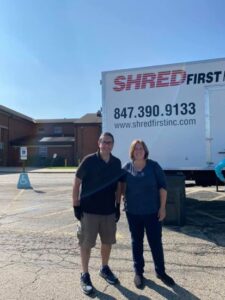 Pictured: State Reps. Sam Yingling and Joyce Mason at their Shred Day.
Springfield Office:
271-S Stratton Office Building
Springfield, IL 62706
(217) 782-7320
District Office:
1919 IL Route 83
Suite 1
Round Lake Beach, IL 60073
(847) 231-6262
(847) 231-6102 FAX