NAPERVILLE, Ill. – As a part of Breast Cancer Awareness Month, state Rep. Janet Yang Rohr, D-Naperville, is reminding residents to schedule their mammograms and take proactive steps to prevent breast cancer.
"DuPage County has a higher incidence rate of breast cancer compared with the rest of Illinois," said Yang Rohr, citing research from the Susan G. Komen Foundation. "Routine breast cancer screenings and other preventative health measures are an important way to keep women in our community and across Illinois healthy."
Breast cancer treatment leads to extreme personal and financial costs for middle- and low-income families in Illinois. As part of her continued efforts to advocate for affordable health care, Yang Rohr helped to allocate millions of state dollars for the Illinois Breast and Cervical Cancer Program (IBCCP), which provides breast and cervical cancer screenings for uninsured Illinois residents aged 35-64. The program also provides treatment benefits to breast cancer and cervical cancer patients.
"Routine breast cancer screenings can save lives, and no one should have to go without them because of their financial status," said Yang Rohr. "I am taking Breast Cancer Awareness Month as an opportunity to encourage breast cancer screenings and to reaffirm my commitment to fighting for affordable health care for our state and community."
To enroll in IBCCP, call the Women's Health line at 1-888-522-1282 to learn about eligibility requirements and the screening process. Individuals at risk for breast cancer who are not eligible for IBCCP should contact their primary care provider to schedule breast cancer screenings.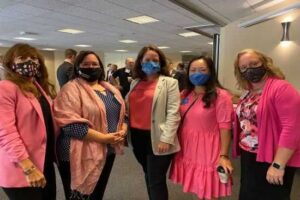 Caption: Representative Janet Yang Rohr joins her state legislative and district colleagues–Senators Linda Holmes and Cristina Castro, Representative Maura Hirschauer, and 41st District Chief of Staff Donna Wandke–in wearing pink to honor State Senator Laura Ellman's fight against breast cancer and to bring attention to Breast Cancer Awareness month.
Springfield Office:
284-S Stratton Office Building
Springfield, IL 62706
(217) 782-6507
District Office:
475 River Bend Rd.
Suite 500
Naperville, IL 60540
630-296-4157
info@repyangrohr.com