ROCKFORD, Ill. – As part of his efforts to provide important resources to his district, state Rep. Dave Vella, D-Rockford, joined The Workforce Connection and other community groups in hosting a Hiring Event. At the event, local jobseekers were able to meet and interview with representatives from dozens of hiring businesses. In addition, attendees were able to access the many services The Workforce Connection provides to jobseekers.
"Helping connect qualified applicants with open positions is mutually beneficial for both jobseekers and businesses," said Vella. "After a year in which the economic impact of the COVID-19 pandemic hurt workers and businesses, it is important that we are providing resources to assist both groups. Thank you to The Workforce Connection for putting together this important event. The foundation of our economy is the businesses and residents that live in our area, I look forward to working to help them be as successful as possible."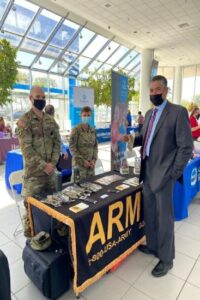 Pictured: Vella (above) meets with employers at the Hiring Event.
# # #