SPRINGFIELD, Ill. – Special education students will be eligible to stay enrolled in education programs longer under legislation sponsored by state Rep. Fran Hurley, D-Chicago that was recently signed into law by Gov. Pritzker.
"I am extremely excited to see this much needed legislation signed into law and I'm especially happy to see that friends, neighbors and students from throughout the state will benefit from this legislation," said Hurley. "I need to thank the constituents in my district who brought this common-sense legislation proposal to my desk. Because of them, kids will be able to end the school year with their friends and teachers."
Hurley's bill, House Bill 40, will allow all special education students to finish the school year of their 22nd birthday. Currently, special education students are allowed to go to school from ages 3 to 21. Once the student turns 22 years old, they are no longer eligible to attend school, even if their birthday is in the middle of a school year.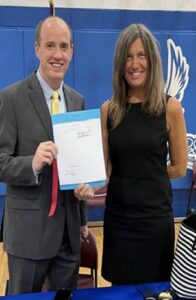 Pictured: State Senator Bill Cunningham and State Rep. Fran Hurley
Springfield Office:
281-S Stratton Office Building
Springfield, IL   62706
(217) 782-8200
Chicago Office:
10400 S. Western
Chicago, IL  60643
(773) 445-8128
(773) 672-5144 FAX
Orland Hills Office:
16033 S 94th Avenue
Orland Hills, IL 60487
(708) 233-9703