CHICAGO – To boost lagging vaccination rates, state Rep. Justin Slaughter, D-Chicago, recently partnered with Bullying Prevention and Awareness 365, Shoop Elementary School and the Chicago Department of Health to host a PPE giveaway and vaccine distribution clinic.
"Although we have made a lot of progress during the past few months, the vaccination rates in the Black community are still lower than in other communities," said Slaughter. "We must continue to fight for equity in health care to defeat this virus for good."
The PPE and vaccine distribution event took place in the parking lot of Shoop Elementary School on Friday, June 11. More than 300 bags of PPE were given out and around 30 residents received doses of the Moderna vaccine.
"I am grateful for the resources provided to us by the Chicago Department of Public Health, and I appreciate the work they have done to fight this virus," said Slaughter. "I look forward to listening to more members of the community to find out how we can continue to work together to address their needs."
For more information, please call Rep. Slaughter's district office at 773-445-9700 or send an email to office@repslaughter.com.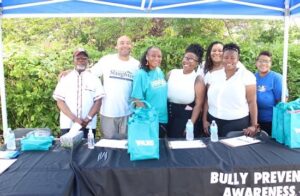 Pictured: Rep. Slaughter (second from left) with Bullying Prevention and Awareness 365's staff and founder Dorothy Thompson (right) at their PPE and vaccine distribution event last Friday.
Springfield Office:
249-E Stratton Office Building
Springfield, IL 62706
(217) 782-0010
(217) 782-1795 FAX
District Office:
1234 W. 95th St.
Chicago 60643
773-445-9700