SPRINGFIELD, Ill. – In recognition of her support on issues impacting the motorcycling community in Illinois, state Rep. Stephanie Kifowit (D-Oswego) was named the 2020 ABATE Representative of the Year along with Rep. Tim Butler (R-Springfield) as the 2021 ABATE Representative of the Year. Kifowit was recognized during the group's annual Ride to the Capital event on Sunday, which was postponed from last year as a result of the pandemic.
"It was truly an honor to be named ABATE Representative of the Year and I thank the men and women of this organization for the distinct recognition," said Kifowit. "ABATE works tirelessly on behalf of the motorcyclists across Illinois, many of whom are Veterans. Unbeknownst to many, ABATE also is active in the community from Toy Drives to Blood Drives in addition to awareness campaigns for Veteran issues and suicide prevention programs. It has always been a pleasure working with them not only to discuss legislation in Springfield but help partner with them in the community at their local events. I'm proud of this distinction and look forward to continuing to work with ABATE in the future."
ABATE of Illinois is an advocacy group dedicated to preserving the universal right to a safe, unrestricted, motorcycling environment. They represent the interests of the nearly 300,000 registered motorcyclists in Illinois as well as members of the off-road community.
"Representative Kifowit has proven herself to be a true supporter of the motorcycle community by co-hosting community events with ABATE members in her district, and sponsoring several key pieces of legislation for ABATE back in Springfield," said Josh "Ski" Witkowski, ABATE State Legislative Coordinator. "ABATE is proud to award Stephanie with Representative of the Year for 2020".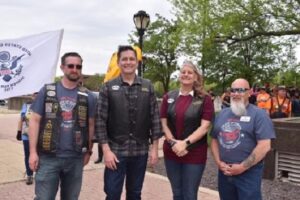 From left to right: Josh "Ski" Witkowski, state Rep. Tim Butler (2021 Representative of the Year), state Rep. Stephanie Kifowit (2020 Representative of the Year), Ryan Hubbard
Springfield Office:
200-7S Stratton Office Building
Springfield, IL 62706
(217) 782-8028
District Office:
1677 Montgomery Rd.
Ste. 116
Aurora, IL  60504
(630) 585-1308
(630) 585-1357 FAX