LOMBARD, Ill. – Local families enjoyed ice cream cones – and a chance to talk about the issues that are most important to them – with state Rep. Terra Costa Howard, D-Glen Ellyn, at her "Cones with Costa Howard" event last week at the Lombard Dairy Queen.
"With the first day of classes right around the corner, I'm glad that students and parents were able to take a short break from their back-to-school preparations and grab some ice cream with me," said Costa Howard. "It was great hearing directly from constituents about the issues that are on their minds, and I look forward to keeping up with our youngest residents as the school year gets under way."
In her eight months in office, Costa Howard has held numerous town hall meetings, coffees, and other events to give her constituents a chance to meet her face-to-face and share ideas about Illinois government. She also has offered evening office hours throughout the summer, for the convenience of working people in the 48th District.
This fall, Costa Howard will continue her Working Families Office Hours from 3 p.m. to 7 p.m. on the first and third Wednesdays of each month, from Sept. 4 through Nov. 20. For more information, or to make an appointment with Costa Howard during Working Family Office Hours, please contact her full-time constituent service office at 630-812-9292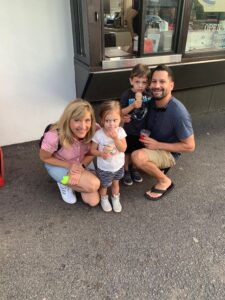 PICTURED: Costa Howard (front, left) and a local family enjoy ice cream from Lombard's Dairy Queen at "Cones with Costa Howard" event.
Springfield Office:
244-W Stratton Office Building
Springfield, IL 62706
(217) 782-8037
District Office:
913 S. Main St.
Lombard, IL 60148
(630) 812-9292