NORTHBROOK, Ill. – Bringing news and updates from Springfield, state Rep. Jonathan Carroll, D-Northbrook, met with local residents at their doors to talk about new laws and hear their feedback on his work to lower property taxes.
"I always enjoy hearing from my residents, and I believe it is important for me to remind them about the new laws coming out of Springfield and to hear their thoughts on local issues," Carroll said. "I am focused on building a stronger Illinois for the middle class, and that begins by lowering property taxes, consolidating units of government, enacting commonsense gun safety reforms and making health care more affordable."
Carroll has been knocking doors in his community to update neighbors on new laws, as well as his upcoming legislative goals. This year, Carroll helped pass a bipartisan, balanced budget, as well as a new property tax rebate program to help homeowners lower their bills and ensuring women's health care is a fundamental right. Carroll also fought to create a property tax relief task force to find ways to lower property taxes and a comprehensive measure to require insurance companies to cover the cost of EpiPens. He is currently working to pass a new law that would prohibit smoking in cars when children are present.
"I want people to know what is available to them, and the steps I am taking toward building a stronger middle class and a better Illinois," Carroll said. "While there's still a lot of work to be done, we made good progress this spring to address the issues affecting our community."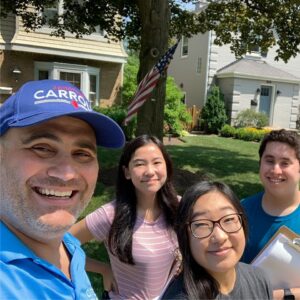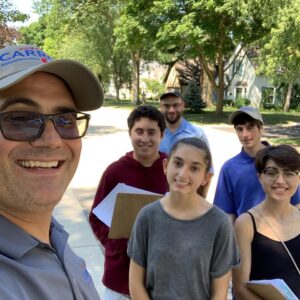 Pictured: Rep. Carroll takes a selfie with his student interns while out knocking doors and speaking to community residents.
Springfield Office:
231-E Stratton Office Building
Springfield, IL 62706
(217) 558-1004
District Office:
3153 Dundee Road
Northbrook, IL 60062
(847) 229-5499
(847) 229-5487 Fax