ROUND LAKE BEACH, Ill. – Continuing his work to combat the opioid epidemic, state Rep. Sam Yingling, D-Grayslake, held an Opioid Town Hall with Lake County Sheriff John Idleburg and State's Attorney Mike Nerheim. Yingling has fought against the epidemic during his time in Springfield, sponsoring legislation to increase oversight of prescription medications and track controlled substances like opioids. Yingling also hosted a location for the national Drug Take Back Day this year, which gave community members a way to safely dispose of their unused drugs.
"The health and safety of our community are extremely important to me," said Yingling. "Fighting to end the opioid epidemic will require all of us, community members, law enforcement officials, and legislators, to work together and find solutions. I am committed to working towards finding ways to help combat this issue, and I appreciate everyone who attended the town hall and contributed ideas to help solve this critical issue."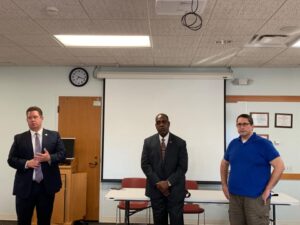 Pictured: Yingling (right) listens to a question at the Opioid Town Hall.
Springfield Office:
259-S Stratton Office Building
Springfield, IL 62706
(217) 782-7320
District Office:
1919 IL Route 83
Suite 1
Round Lake Beach, IL 60073
(847) 231-6262
(847) 231-6102 FAX