VILLA PARK, Ill. – Dozens of DuPage residents concerned about the growing opioid crisis gathered to ask questions and learn more about local programs at an Addiction and Opioid Awareness Forum hosted by state Reps. Deb Conroy, D-Villa Park, and Terra Costa Howard, D-Glen Ellyn.
The forum was held Monday evening at Willowbrook High School in Villa Park.
"Seeing so many attendees at this forum was a powerful reminder of just how widespread the opioid crisis is within our community," said Conroy. "I'm grateful to all of the panelists who spoke about what addiction looks like, the impacts of drug abuse, and the resources available to people who are affected by addiction. These advocates inspire me every day in the fight to make mental health services and addiction treatment affordable and accessible for all."
Conroy and Costa Howard were joined by panelists with expertise in addiction medicine and public safety: Richard A. Phillips, MD, an emergency medicine physician affiliated with AMITA Health-Glen Oaks; Dan Lustig, President/CEO of Haymarket Center; DuPage County Sheriff James Mendrick, and DuPage County State's Attorney Robert Berlin.
"The opioid crisis is devastating communities across our country, and we must do everything we can to help the individuals and families who are struggling with the impacts of these drugs," Costa Howard said. "It's important for the people of DuPage County to learn more about opioid abuse and about the state and local programs that can offer treatment and support. We need more outreach efforts, such as this forum, to help raise community awareness about the opioid epidemic and the resources that are available to people in crisis. If we work together, we can save lives."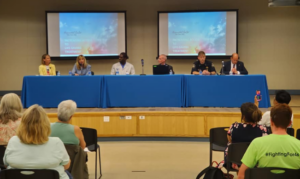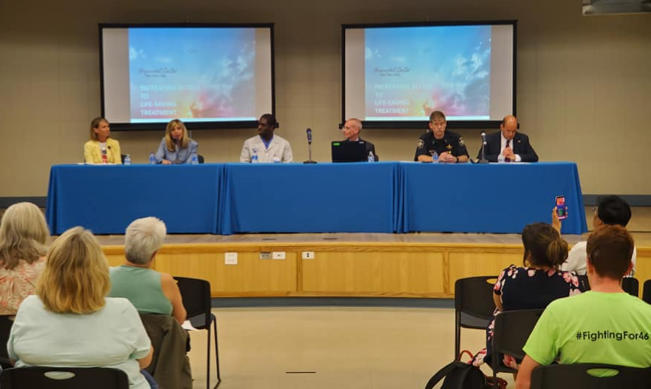 State Reps. Deb Conroy (left) and Terra Costa Howard led a panel of medical professionals and elected officials at their Addiction and Opioid Awareness Forum, held at Willowbrook High School on Monday evening.
Springfield Office:
275-S Stratton Office Building
Springfield, IL 62706
(217) 782-8158
District Office:
28 S. Villa Ave.
Villa Park, IL 60181
(630) 415-3520
(630) 415-3522 FAX