ROUND LAKE BEACH, Ill. – Using his time this summer to talk to and gather feedback from his constituents, state Rep. Sam Yingling, D-Grayslake, held a Meet and Greet at Something's Brewing in Grayslake. After a busy legislative session, Yingling has been making it a priority this summer to hear the thoughts of his constituents, holding multiple town halls, coffee shop stops, and other meetings around the community.
"The best way for me to represent my constituents is to hear directly from them," said Yingling. "One-on-one conversations are a perfect way for me to hear what people are thinking about what they would like to see in the future. Thank you to everyone who came to my Meet and Greet and talked to me about what they would like to see from their state government moving forward."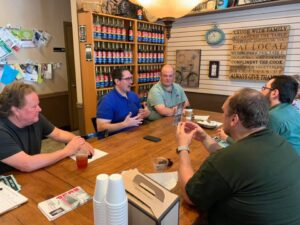 Pictured: Yingling speaks to constituents at his Meet and Greet.
Springfield Office:
259-S Stratton Office Building
Springfield, IL 62706
(217) 782-7320
District Office:
1919 IL Route 83
Suite 1
Round Lake Beach, IL 60073
(847) 231-6262
(847) 231-6102 FAX