OAK PARK, Ill. – State Rep. Kathy Willis, D-Northlake, state Rep. Camille Lilly, D-Chicago, and state Sen. Don Harmon, D-Oak Park, held another town hall in a series of events to update constituents on the new laws that will impact the community and state.
"Illinois saw many new laws take effect this year, with more coming next year that will help build a stronger middle class," Willis said. "Both labor and business joined our efforts to pass a balanced budget that holds the line on middle-class taxes while fulfilling investments to education and infrastructure, and a budget that also helps stabilize state finances."
Willis, Lilly and Harmon met with residents this week to update them on the new laws that have taken effect and that will soon become law at the start of the next year. In their presentations, the Fair Tax, adult-use cannabis, the historic Rebuild Illinois infrastructure project and the Reproductive Health Act were discussed. Lilly highlighted her efforts to improve youth health and well-being thanks to her Tobacco 21 law alongside her civics education and criminal justice reforms.
Willis spoke about her proposals to Fix the FOID and her attempts to help save the Westlake Hospital in Melrose Park from closing down, which would have denied critical access to health care to largely black and brown communities. Lilly's and Willis' labor and business-backed balanced budget infuses an additional $375 million into publics schools and also eliminates $1 billion in unpaid bills.
"The General Assembly accomplished a great deal this year that will help lift up middle-class families, but our work is just the beginning," Lilly said. "Illinois must be a national leader for access to fundamental health care services, fairer taxes and better funded schools. That is how we will make a better Illinois and a stronger middle class."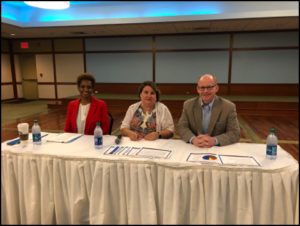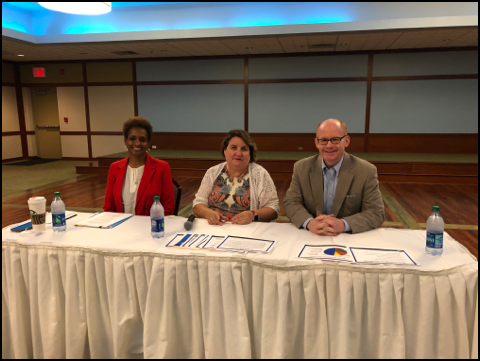 Pictured above: Rep. Lilly, Rep. Willis and Sen. Harmon prepare for a local town hall, addressing Illinois' new budget along with their legislative priorities.
Springfield Office:
632 Capitol Building
Springfield, IL 62706
(217) 782-3374
(217) 524-0448 FAX
District Office:
112 N. Wolf Rd.
Northlake, IL 60164
(708) 562-6970
(708) 562-6974 FAX