Plainfield, Ill. – Illinois House Assistant Majority Leader Rep. Natalie Manley, D-Joliet, recently visited Troy Middle School for a presentation on solar arrays that were recently installed on several Troy School District buildings. A solar array is a solar panel, often found fixated upon the roof of a building to generate electricity. The solar arrays will help the school district save an estimated $3.8 million in energy costs and serve as an educational tool for students.
"This was a great opportunity to learn more about solar technology and the benefits it can provide for our community," said Manley. "I applaud Troy School District for taking on this initiative which has the potential to both save taxpayer dollars and provide a learning resource for our students."
Ameresco, a renewable energy company, installed rooftop arrays at six schools within the district with IBEW Local 176 electricians. These systems will provide the school district with over 2.7 million kilowatts of energy in the first year, providing over 40% of the total energy for these schools. The school district is also working to incorporate solar energy education into their curriculum and science clubs. Online dashboards make the production and weather data from the systems available for classroom use and students can learn how math, physics, chemistry and computer science are applied in the real world.
"Our board was forward thinking in putting the solar panels on our rooftops because they wanted to lead the way for the county," said Troy School District Superintendent Todd Koehl. "We also knew that this would have a great impact on the learning of our students and so we went forward with the project, and we're very excited that we're now generating energy."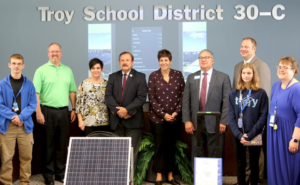 Rep. Natalie Manley (third from left) visited Troy Middle School for a presentation on solar arrays.
Springfield Office:
109 Capitol Building
Springfield, IL 62706
(217) 782-3316
District Office:
2701 Black Rd.
Suite 298
Joliet, IL  60435
(815) 725-2741
(815) 725-5269 FAX