EDWARDSVILLE, Ill. – State Rep. Katie Stuart, D-Edwardsville, sat down with educators, administrators and area parents Wednesday evening for a Citizens' Advisory Committee meeting to discuss recent developments in education.
"Citizens' Advisory Committee meetings are one of the most important tools I have for collecting feedback from my constituents who see the impact of decisions made in Springfield each year," Stuart said. "I deeply value the comments, questions and concerns I heard during the meeting, and I'd like to thank everyone who came to listen and provide valuable suggestions on how to improve education in our community and in Illinois."
The Education Citizens' Advisory Committee was held at the Edwardsville Public Library from 6 to 7 p.m. on Wednesday, April 24. During the meeting, Rep. Stuart discussed various education-related topics, including addressing the teacher shortage, student mental health and school funding. A former teacher, Stuart also took the opportunity to listen to attendees' concerns and feedback for future decisions impacting the education profession and local schools.
For more information about upcoming Citizens' Advisory Council meetings, please contact Rep. Stuart's constituent service office in Collinsville at 618-365-6650 or RepKatieStuart@gmail.com.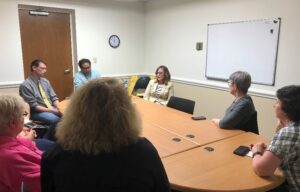 Pictured: Rep. Katie Stuart (center) meets with her Citizens' Advisory Committee.
Springfield Office:
250-W Stratton Office Building
Springfield, IL   62706
(217) 782-8018
(217) 782-0882 FAX
District Office:
2105 Vandalia St.
Unit #16
Collinsville, IL 62234
Phone: (618) 365-6650