VILLA PARK, Ill. – Civic education advocate state Rep. Deb Conroy, D-Villa Park, answered questions and heard ideas about public policy and state government from local students this week at Willowbrook High School.
"The best part of being a state representative is bringing the work we're doing in Springfield directly to the people who will be most impacted by these laws in the future – our teenagers and young adults," Conroy said. "There's no doubt that the teens I met with at Willowbrook High School have bright futures, and it's our duty to equip them with the knowledge and interpersonal skills they'll need to be future leaders in our community."
Conroy is a sponsor of legislative initiatives that require schools to incorporate instruction on mental wellbeing and illness in health curriculum, discuss the importance of consent in sex education, and to ensure American history classes include information about contributions of LGBTQ citizens to the country and the state.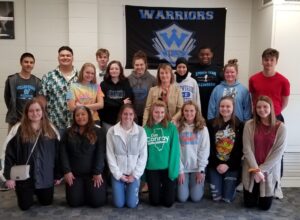 Pictured: State Rep. Deb Conroy met with students at Willowbrook High School in Villa Park to discuss the importance of civics and community engagement.
Springfield Office:
275-S Stratton Office Building
Springfield, IL   62706
(217) 782-8158
(217) 524-0435 FAX
District Office:
28 S. Villa Ave.
Villa Park, IL  60181
(630) 415-3520
(630) 415-3522 FAX