DES PLAINES, Ill – Being recognized for his continued service to the community, state Rep. Marty Moylan, D-Des Plaines, was recently awarded a Public Official of the Year 2018 honor by the Illinois Association of Chiefs of Police (ILACP).
"I could not be more proud to be recognized by this organization," Moylan said. "I would like to thank the Illinois Association of Chiefs of Police for recognizing our continued work in the community and the efforts we have put forth to protect constituents."
Moylan was recognized for his continued work to push legislation that supports and protects law enforcement. Last year, Moylan co-sponsored House Bill 375 which provides more mental health training to Illinois law enforcement officers. Moylan's initiative will help better prepare officers to respond to certain mental health crises. House Bill 375 passed both houses unanimously and was signed into law last August.
"The brave men and women in uniform risk their lives every day to serve us," Moylan said. "It is our job to protect our law enforcement officers so that they can continue to serve and protect our communities."
For more information about the award or any legislation Moylan helped pass to protect the efforts of law enforcement, please contact Moylan's full-time constituent office at 847-635-6821 or email StateRepMoylan@gmail.com.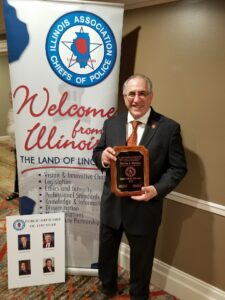 Pictured: State Rep. Marty Moylan
Springfield Office:
200-3S Stratton Office Building
Springfield, IL   62706
(217) 782-8007
District Office:
24 S. Des Plaines River Rd.
Ste. 400
Des Plaines, IL  60016
(847) 635-6821
(847) 635-8565 FAX