ROUND LAKE BEACH, Ill. – State Rep. Sam Yingling, D-Grayslake, attended the Mano a Mano Monarch Gala on Saturday night. The purpose of the gala was to bring together community leaders that support empowering immigrants and their families.
"I am proud to support Mano a Mano and the incredible work that they do," said Yingling. "Throughout the years I have been able to see the positive impacts that Mano a Mano's work has accomplished and I am committed to providing as much support to this important organization as I can."
Mano a Mano is a Round Lake Park-based organization that provides health resources and services, educational classes and workshops, and immigration legal services to immigrant individuals and families. Serving over 4,500 people a year, Mano a Mano provides critical programs that are aimed at empowering immigrant families.
"Mano a Mano provides support to communities that historically have been underserved," said Yingling. "They are on the ground changing people's lives for the better. I am thankful for the work that they do, and feel lucky to get to work with such an amazing organization."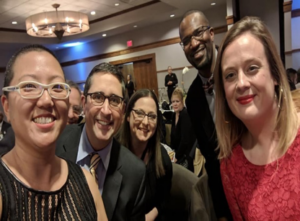 Pictured: State Rep. Sam Yingling (second from the left) at the Mano a Mano Monarch Gala
Springfield Office:
237-E Stratton Office Building
Springfield, IL 62706
(217) 782-7320
District Office:
1919 IL Route 83
Suite 1
Round Lake Beach, IL 60073
(847) 231-6262
(847) 231-6102 FAX