SPRINGFIELD, Ill. – State Rep. Camille Y. Lilly's, D-Chicago, bipartisan legislation to raise the age to buy tobacco products to 21 is now law after it was signed yesterday by Gov. J.B. Pritzker.
"Tobacco use has severe and significant consequences to our health and if you don't have your health, you don't have much else," said Lilly. "Respiratory problems, lung cancer, and heart disease are exacerbated by the use of tobacco products and this measure will lower the amount of young people who begin smoking."
Lilly's House Bill 345, also known as Tobacco 21, increases the age to buy tobacco products, cigarettes and e-cigarettes from 18 to 21. Currently, people who are 18 years old can purchase these items but under the new law, retailers are barred from selling tobacco products to any person under 21 years old and retailers can face tobacco sales license revocation for selling to underage buyers. Lilly worked with advocates from the American Cancer Society, American Heart Association, American Lung Association and Respiratory Health Association to advance Tobacco 21 in Illinois with the goal of preventing and reducing smoking and tobacco use among teenagers so that young adults are able to use their energy to focus on doing well in school and extracurricular activities.
"This legislation will reduce youth tobacco use in Illinois and save billions in future healthcare costs," Lilly added. "I thank Governor Pritzker and my colleagues in the House and Senate for working with me to make Illinois the first Midwestern state to enact Tobacco 21 into law."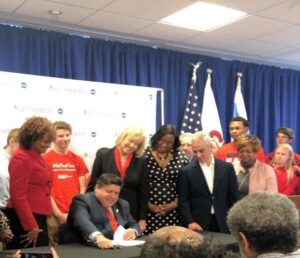 Pictured: State Rep. Camille Y. Lilly (left) and State Sen. Julie Morrison look on as Gov. J.B. Pritzker signs her Tobacco 21 bill into law.
Springfield Office:
270-S Stratton Office Building
Springfield, IL   62706
(217) 782-6400
(217) 558-1054 FAX
District Office:
6937 W. North Ave.,
Oak Park, IL 60302
(708) 613-5939