SPRINGFIELD, Ill. – To increase awareness and beat the stigma surrounding mental health, state Rep. Karina Villa, D-West Chicago, is sponsoring legislation to include curriculum around mental health and the important connection between mental and physical health in schools.  Villa's measure passed out of the Illinois House with overwhelming bipartisan support, and now advances to the state Senate.
"Through my experience as a school social worker, I know firsthand the importance of early intervention with children and providing counseling for their mental health needs," said Villa.  "I am proud that the first piece of legislation I passed out of the House will help to teach our children about mental health and wellness by increasing mental health education in schools."
For more information, contact Villa's constituent services office at 630-326-9319 or StateRepKarinaVilla@gmail.com.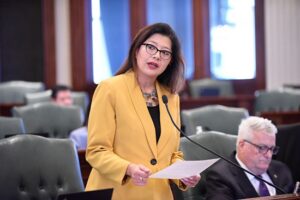 Villa is pictured presenting House Bill 205 in the Illinois House of Representatives, where it passed with strong bipartisan support. Villa's measure now moves to the state Senate for consideration.
Springfield Office:
242A-W Stratton Office Building
Springfield, IL 62706
(217) 782-1653