CHICAGO – State Rep. Yehiel "Mark" Kalish, D-Chicago, met with students from Jordan Elementary Community School earlier this week. Kalish discussed what he does as a state Representative, the legislative process and asked students what issues that they were most concerned about.
"It was great to visit with the bright students at Jordan Elementary," Kalish said. "As a strong advocate for education and quality schools, I am fighting every day in Springfield to ensure that our schools have the resources they need to give students the educational opportunities that will help them thrive."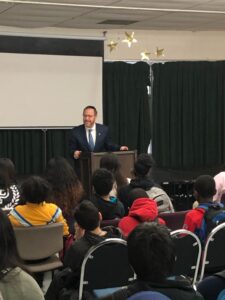 Pictured: State Rep Yehiel "Mark" Kalish (center) explains his job as a state Representative to students at Jordan Elementary. 
Springfield Office:
242-W Stratton Office Building
Springfield, IL 62706
(217) 782-1252
District Office:
4508 Oakton St.
Skokie, IL 60076
(847) 673-1131