ROUND LAKE BEACH, Ill. – State Rep. Sam Yingling, D-Grayslake, hosted a community event Saturday morning at Something's Brewing in Grayslake. Constituents voiced their opinions to Yingling while enjoying a cup of coffee.
"I am always happy to talk to my constituents about what issues they are facing and how I can best help them," said Yingling. "It is incredibly important to me to know what people in my district are thinking and experiencing, and these events are a great way for the community to let me know what is important to them."
Yingling discussed various topics with the attendees including taxes, education, transportation and the impact of ethylene oxide, a toxic chemical that was used at the Sterigenics facility in Willowbrook. Lake County Sheriff John Idleburg also attended the event.
Yingling regularly hosts events that give community members an opportunity to share their thoughts with him. Similar events will be hosted throughout the upcoming months, giving residents ample opportunities to speak with Yingling.
"I look forward to going around the district and talking with as many people as I can," said Yingling. "My work in Springfield is based on what I hear from constituents back home, and I am very thankful for everyone who takes time out of their day to talk with me and share their thoughts on the issues facing our community."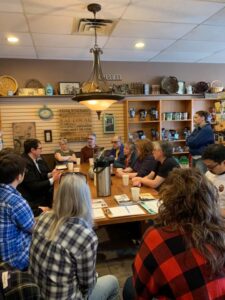 Pictured: State Rep. Sam Yingling (left) speaks with constituents
Springfield Office: 
237-E Stratton Office Building
Springfield, IL 62706
(217) 782-7320
District Office: 
1919 IL Route 83
Suite 1
Round Lake Beach, IL 60073
(847) 231-6262
(847) 231-6102 FAX