NORTHBROOK, Ill. – Following the announcement of his seasonal art contest to highlight the rich diversity of the area, state Rep. Jonathan Carroll, D-Northbrook, recently displayed the newest creative submission to his office.
"Our community is filled with talented young artists, and their creativity can capture the richness of our area in unique ways," said Carroll. "We should do everything we can to encourage young people to explore their talents to express themselves, share their work and improve their skills."
Carroll is currently accepting submissions by local students to display their creative masterpieces in both his Springfield and district offices. Students from all local schools are encouraged to submit their designs until the end of the month, Monday, March 31. Carroll will showcase the selections after the deadline.
"I want to provide as many opportunities as I can to inspire young people to get engaged and have some fun while doing so," said Carroll. "It is also another way for students to develop critical thinking skills while highlighting something significant about our society."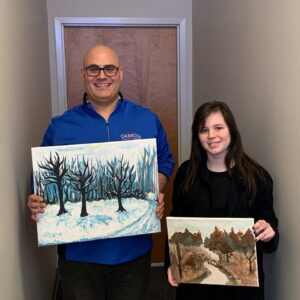 Carroll (left) holds up art submitted by local young artist Camryn (right).
Springfield Office:
241-E Stratton Office Building
Springfield, IL   62706
(217) 558-1004
(217) 558-4554 FAX
District Office:
3153 Dundee Road
Northbrook, IL 60062
(847) 229-5499
(847) 229-5487 Fax