SPRINGFIELD, Ill. – State Rep. Elizabeth "Lisa" Hernandez, D-Cicero, released the following statement following her selection as assistant majority leader of the House of Representatives:  
"It is an honor to have been nominated by my fellow Latino Caucus members to be our community's voice in leadership. Now more than ever, Latinos and immigrants need representation in government and someone who is going to work to put an end to the bigoted policies of Donald Trump.
"I am an advocate at heart and I have spent my entire career fighting on behalf of children, women and immigrants. I am humbled to be able to serve alongside other fearless leaders whose values I share. I'm ready to utilize my new post to ensure our local public schools are funded, that working families have access to affordable childcare and health care, and that children are never torn away from their parents."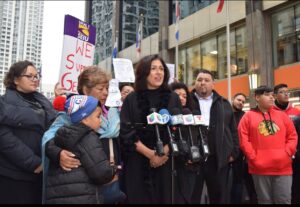 Pictured: State Rep. Elizabeth "Lisa" Hernandez with community members, advocates, and family at a press conferece, announcing that Genoveva Ramirez, a Berwyn resident, who had been ordered to leave the country was being allowed to stay while her visa application was being processed.
Springfield Office:
229-E Stratton Office Building
Springfield, IL 62706
(217) 782-8173
(217) 558-1844 FAX
District Office:
6117 West Cermak Road
Cicero, IL 60804
(708) 222-5240
(708) 222-5241 FAX