BUFFALO GROVE, Ill. – State Rep. Jonathan Carroll, D-Buffalo Grove, met with representatives of the HANA Center to discuss potential legislation in an effort to lift up minority communities in Illinois.
"A more diverse and inclusive community brings new voices to the table," said Carroll. "The HANA Center's efforts to protect people in need are commendable, and I think it's time our State and Federal governments follow suit."
Carroll recently sat down with members of the HANA Center to discuss legislation to promote and protect minority communities throughout Illinois. Currently, Rep. Carroll is backing legislation that prohibits employers from requiring potential hires to submit salary histories, which has been an obstacle to ending pay inequality for women. Additionally, Carroll is supporting legislation that will teach students the LGBTQ community's contributions to American history.
In Korean, HANA means "one," which symbolizes the unification of the  Korean American Community Services and Korean American Resource and Cultural Center. In February 2017, the HANA Center merged from two other organizations to combine their efforts to offer numerous services, including senior housing, workforce development, legal services for immigrants and civic engagement.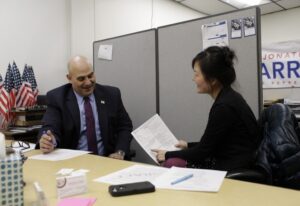 Pictured: State Rep. Carroll (left) discusses diversity issues with HANA Center Deputy Director Taneka Jennings (right) at Carroll's district office.
Springfield Office:
241-E Stratton Office Building
Springfield, IL   62706
(217) 558-1004
(217) 558-4554 FAX
District Office:
3153 Dundee Road
Northbrook, IL 60062
(847) 229-5499
(847) 229-5487 Fax