SPRINGFIELD, Ill. – State Rep. Jonathan Carroll, D-Buffalo Grove, called for bipartisanship over the next two years as he and fellow lawmakers took the oath of office and began a new legislative session Wednesday. Carroll will push to address the state's most pressing challenges, including tax relief and gun safety.
"I've been speaking with many of my colleagues in the House, and if there is one common thread, it is that we are eager to get back to work," Carroll said. "With our new administration already setting a strong bipartisan tone, I know that Democrats and Republicans will both get seats at the table. When we listen to everybody's voice, we craft stronger bills and really help the hardworking families of Illinois."
One significant legislative priority for Carroll during the new term is passing commonsense gun reforms. According to the "Gun Violence Archive," the United States experienced nearly one mass shooting per day in 2018, with many occurring in schools, restaurants, synagogues and malls. Carroll recognizes that a good first step is a renewed effort to pass legislation to license gun dealers. Gov. Bruce Rauner blocked similar legislation last year.  
"Gun violence is an issue that I've heard from many concerned parents," Carroll continued, "and the data backs their beliefs. We need to pass substantive bills like gun dealer licensing to start addressing this, now. This past election, Illinoisans told their representatives that they overwhelmingly want commonsense gun safety protections, and now it's up to us to turn this call into action."
Tax relief is also a central issue for Carroll in the term ahead. Carroll is working to build a bipartisan coalition to reinstate the State and Local Tax (SALT) Deduction for Illinois residents after President Donald Trump's partisan tax law slashed it to provide a tax break to billionaires. Carroll will also push for property tax relief by working with members of both parties to consolidate duplicative and wasteful layers of government. 
"Illinois taxpayers need real, bipartisan tax relief," Carroll continued. "That means fighting against President Trump hiking middle-class taxes to fund massive tax breaks for the wealthy. It also means we need to slash government bodies that don't serve a purpose."
Carroll will continue staying active in the community this year. Like he did in 2018, Carroll will host community events ranging from property tax seminars to residential shredding services. Carroll also knocks on doors during the year in every type of weather to listen to residents' thoughts on their community and government.
"One of the best parts of my job is getting out of the office and meeting my constituents. I go door-to-door, speaking with real families, and learning what really impacts them," Carroll said. "My goal is to be a voice for my community, so I encourage my constituents to reach out to my office at any time."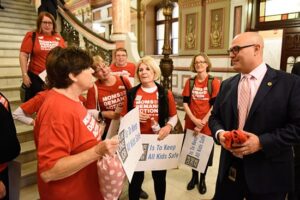 Caption: State Rep. Carroll speaking in Springfield with members of Moms Demand Action, a commonsense gun control advocacy group.
Springfield Office: 241-E Stratton Office Building Springfield, IL 62706 (217) 558-1004 (217) 558-4554 FAX
District Office: 830 S. Buffalo Grove Rd., Suite 120 Buffalo Grove, IL 60089 (847) 229-5499 (847) 229-5487 Fax