CHICAGO – In her efforts to increase awareness of the benefits of locally grown foods and combat the food desert crisis in South Side Chicago neighborhoods, state Rep. Sonya M. Harper, D-Chicago, addressed attendees of the annual Healthy Food Access and Economic Development Summit.
"We forget the role of food in everyday life and how community plays a role in healthy food access," said Harper. "Growing food is different across the state, but that does not mean that we can't provide healthy food options and encourage local residents to make and sell their own goods."
Harper delivered the opening remarks and moderated a panel at the 2018 Healthy Food Access and Economic Development Summit in Bloomington. Urban agriculture and farming advocates whose mission it is to improve food access throughout Illinois joined Harper as expert panelists and attendees.
Harper represents the 6th District, which includes all or portions of Armour Square, Bridgeport, Chicago Lawn, Englewood, Gage Park, Back of the Yards, Canaryville, New City, West Englewood, and Marquette Park. To stay up to date with upcoming events, legislation and neighborhood news, please contact Rep. Harper's office at repsonyaharper@gmail.com.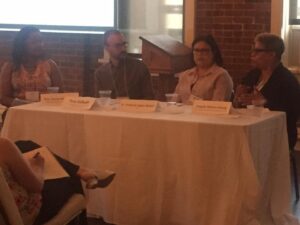 Springfield Office:
276-S Stratton Office Building
Springfield, IL   62706
(217) 782-5971
(217) 558-6370 FAX
District Office:
4926 South Ashland
Chicago, IL  60609
(773) 925-6580
(773) 925-6584 FAX