DES PLAINES, Ill. – Continuing his efforts to provide property tax relief to local residents, state Rep. Marty Moylan, D-Des Plaines, helped host the Elk Grove Township Property Tax Appeal Seminar this past Monday, April 16th at the Elk Grove Township Building.
"While property taxes continue to skyrocket, I am doing my all to communicate with residents that there are ways they can effectively appeal these taxes," Moylan said. "The first step is to learn how to correctly file an appeal with our local township assessors, and that is exactly what this event did."
At the meeting, Elk Grove Township Assessor Connie Carosielli's office was joined by representatives from Cook County Assessor's office for an informational presentation on how to best appeal an individual's property taxes. The presenters were also joined by state Rep. Marty Moylan's office, D-Des Plaines, State Senator Laura Murphy's office, D-Des Plaines, Cook County Commissioner Tim Schneider's office, R-15th District, and the Citizen's Utility Board. The meeting was well-attended and most of the homeowners were able to file their appeal within an hour after arriving.
"I have been fighting against increasingly high property taxes for years and have continued to vote for property tax relief my whole time in Springfield," Moylan said. "I am currently circulating a petition calling on a property tax freeze for those in the community."
 For more information, or to sign Moylan's property tax freeze petition, please call Moylan's full-time constituent office at 847-635-6821 or email StateRepMoylan@gmail.com.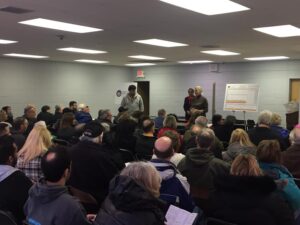 Springfield Office:
200-3S Stratton Office Building
Springfield, IL   62706
(217) 782-8007
District Office:
24 S. Des Plaines River Rd.
Ste. 400
Des Plaines, IL  60016
(847) 635-6821
(847) 635-8565 FAX