CHICAGO – Earlier this month, state Reps. Sonya M. Harper, D-Chicago, and Theresa Mah, D-Chicago, participated in the Gads Hill Peace Summit to see firsthand the workshops that are available to help youths determine their career paths as well as offer their advice on civic engagement.
"It is encouraging to see young people receive the attention they need to develop their critical thinking skills, people skills and to engage in a diverse set of activities to help them know themselves better," said Harper. "Our children need to have regular opportunities to work in different settings so they can figure out what they want to pursue in life."
The Gads Hill Peace Summit is a youth-based initiative designed to assist young people with self-empowerment, community engagement and leadership skills. Both Harper and Mah attended the summit to discuss their experiences pursuing their careers, giving back to the community and working with others.
"Young people have always provided the spark that has brought positive change to our society," Mah said. "The Gads Hill Peace Summit provides a framework to help young people build upon the skillsets required to make their mark on the world."
Harper represents the 6th District, which includes all or portions of Armour Square, Bridgeport, Chicago Lawn, Englewood, Gage Park, Back of the Yards, Canaryville, New City, West Englewood and Marquette Park.
Mah represents the 2nd District, which includes the Chicago neighborhoods of McKinley Park, Pilsen, Chinatown, Bridgeport, Brighton Park and Back of the Yards.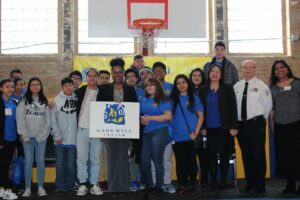 Reps. Harper (Center) and Mah (Right) stand with Peace Summit participants to discuss the importance of community engagement.
Springfield Office:
276-S Stratton Office Building
Springfield, IL   62706
(217) 782-5971
(217) 558-6370 FAX
District Office:
4926 South Ashland
Chicago, IL  60609
(773) 925-6580
(773) 925-6584 FAX