COLLINSVILLE, Ill. – This past Wednesday, state Rep. Katie Stuart, D-Edwardsville, hosted a Town Hall at the Collinsville American Legion to meet with local veterans and discuss the needs facing their community and families.
"This meeting really opened my eyes to just how much our veterans are struggling, and how there is so much more we as lawmakers can do to help them," said Stuart. "These are citizens who fought in wars around the world to ensure that their friends and families back home would be safe, and in their time of need we need to make sure they are well taken care of."
As a member of the Military Economic Development Committee, Stuart has co-sponsored legislation creating a Veterans Suicide Task Force and ensuring that servicemen and women with PTSD receive support dogs. Most recently, Stuart co-sponsored legislation to bring more oversight to the state's veterans' homes in response to the Legionnaires' disease outbreak at the Quincy Veterans' Home.
"Holding town halls that have a specific focus allow me to hear the concerns of all those who are present. We must ensure that not only our veterans, but also the loved ones of those veterans receive the physical, emotional and financial support they need," said Stuart. "I was happy to host this town hall and I thank Steven from Congressman Bost's office for being there to help veterans with their concerns as well. I am glad I was able to thank personally each veteran who attended for their service to our country, and I will continue to fight for those who fought for us."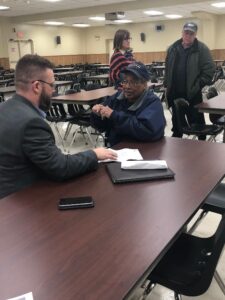 Pictured: Stuart meets one-on-one with local veterans at the end of her Veterans Issues Town Hall meeting on Wednesday.
Springfield Office:
250-W Stratton Office Building
Springfield, IL   62706
(217) 782-8018
(217) 782-0882 FAX
District Office:
2105 Vandalia St.
Unit #16
Collinsville, IL 62234
Phone: (618) 365-6650