SPRINGFIELD, Ill. – After casting his votes for sensible gun safety policies, state Rep. Sam Yingling, D-Grayslake, issued the following statement:
"Today, I voted for the thousands of parents, students, advocates, victims of violent crime and responsible firearm owners from across my district and our state who urged me to support common sense, responsible gun safety laws.
As a parent I feel strongly that we must enact greater protections to prevent deaths from gun violence in our schools and communities. The measures I supported today protect law abiding citizens' right to bear arms and defend themselves while establishing tougher rules to keep criminals, felons and gang members from accessing militarized weapons and accessories.
I urge the governor to break from the small minority within his political party to sign these public safety reforms into law immediately to protect Illinoisans.
I will continue to meet with stakeholders such as Moms Demand Action, our local public safety personal, school officials and outdoor enthusiasts to develop middle of the road policies to better address the complex issue of responsible gun policy and this measure is a much needed step in the right direction."
Yingling backed measures SB1657, HB1273, HB1465, HB1467, HB1468, and HR648. These measures strengthen gun laws with regards to gun dealers, high capacity magazines, banning bump stocks, raising the age to purchase assault weapons, expanded mental health protections and extending the waiting period for assault weapons.
Yingling's constituents had this to say about the recent action in Springfield:
"As a mother and teacher, I am deeply concerned about the access to dangerous weapons and the unrestricted flow of them into and around our state," Laura Dias of Grayslake said.
"No parent or teacher should ever fear for their children and students' lives.
Rep. Yingling's support of SB1657 will help keep Guns out of the wrong hands and help better protect our communities. I am grateful for his support and look forward to the ongoing work ahead."
"My husband and I joined a group of concerned citizens to meet with Rep. Yingling about the urgent issue of sensible gun control," Mary Honegger of Third Lake noted. "We appreciate Rep. Yingling's commitment to this critical issue and encourage the governor to act on this immediately to help prevent further tragedies."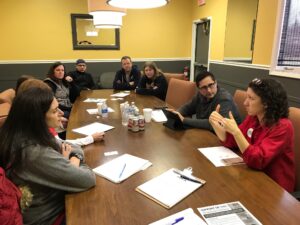 Pictured above: Rep. Yingling visits with Moms Demand Action in his Round Lake Beach office Saturday.
Springfield Office:
237-E Stratton Office Building
Springfield, IL 62706
(217) 782-7320
District Office:
1919 IL Route 83
Suite 1
Round Lake Beach, IL 60073
(847) 231-6262
(847) 231-6102 FAX