ROUND LAKE BEACH, Ill. – State Representative Sam Yingling, D-Grayslake, visited with representatives of the Veterans Assistance Commission of Lake County (VACLC) and local residents during the VACLC's Meet and Greet in downtown Grayslake Thursday.
"We have some of the best men, women and resources in our area available to veterans and their families," Yingling said. "As a state policy maker, I believe every effort possible should be made to ensure our service members receive first rate care and programming. Thursday's visit with the VACLC was a great opportunity for me to hear from our local veteran population, the people there to assist them and to enlist all their feedback about legislative matters."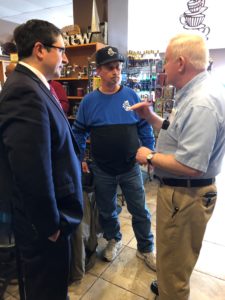 Pictured above: State Rep. Sam Yingling meets with attendees of the VACLC Event at Somethings Brewing Thursday.
Springfield Office:
237-E Stratton Office Building
Springfield, IL 62706
(217) 782-7320
District Office:
1919 IL Route 83
Suite 1
Round Lake Beach, IL 60073
(847) 231-6262
(847) 231-6102 FAX