ROUND LAKE BEACH, Ill.  – Over fifty families from the Round Lake area received free flu shots, diabetes screenings, blood pressure tests and dental products at a health fair sponsored by Congressman Brad Schneider, IL-10, and state Rep. Sam Yingling, D-Grayslake, this past Sunday during St. Joseph Catholic Church's annul Three Kings Benefit.
"I am grateful to have partnered with Congressman Brad Schneider, Rosalind Franklin University, the Illinois Dental Hygienist Association and St. Joseph's to provide local families with basic critical health services," Yingling said. "Together, we helped dozens of families and I look forward to strengthening our partnerships to better serve our area."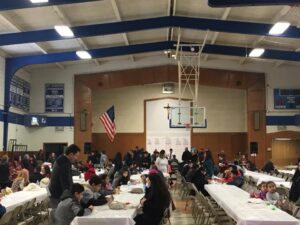 Pictured: Local families receive free health services at a community health fair sponsored by state Rep. Sam Yingling and Congressman Brad Schneider at St. Joseph Catholic Church. 
Springfield Office:
237-E Stratton Office Building
Springfield, IL 62706
(217) 782-7320
District Office:
1919 IL Route 83
Suite 1
Round Lake Beach, IL 60073
(847) 231-6262
(847) 231-6102 FAX