ROUND LAKE BEACH, Ill. – More than a dozen people attended a holiday-themed open house on Tuesday at the constituent service office of state Rep. Sam Yingling, D-Grayslake, to discuss property tax relief and other important issues they want to see Springfield address in 2018.
"I am grateful for all who came out to my open house to share their legislative priorities and to those who donated to A Safe Place," Yingling said. "The residents in attendance spoke passionately about their out-of-control property taxes. I will continue my work in 2018 to lower their tax bills and consolidate duplicate layers of government."
In addition, many residents brought new, unwrapped toys to benefit less fortunate families for Yingling's toy drive.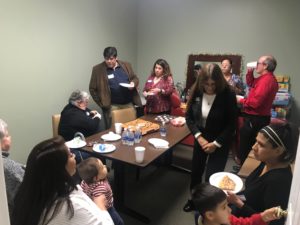 Springfield Office:
237-E Stratton Office Building
Springfield, IL 62706
(217) 782-7320
District Office:
1919 IL Route 83
Suite 1
Round Lake Beach, IL 60073
(847) 231-6262
(847) 231-6102 FAX