SPRINGFIELD, Ill. – State Rep. John Connor, D-Lockport, visited with gun safety activists in Springfield to discuss gun-related violence that continues to plague our country and proposals in the legislature to increase gun safety.
"The concerns of these community leaders are most certainly not going unheard. The recent tragedies in Las Vegas and Sutherland Springs have taken innocent lives and devastated entire communities, and we need to consider any measure that will keep our neighborhoods safe and save lives," Connor said. "As a county prosecutor, I saw firsthand the damage that senseless gun violence does to our communities."
During their visit to the Capitol, advocates from the Moms Demand Action organization spoke to Connor and other legislators about proposals to require local gun shops to obtain state licensing. Connor previously sponsored and voted for House Bill 4117 which would have banned trigger modifications, like the "bump stocks" that the Las Vegas shooter used to turn rifles into machine gun-style weapons.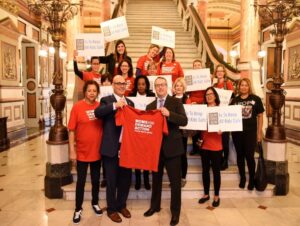 State Rep. John Connor met with members of
Moms Demand Action in Springfield to discuss gun safety legislation.
Springfield Office:
259-S Stratton Office Building
Springfield, IL   62706
(217) 782-4179
(217) 557-7204 FAX
District Office:
209 W. Romeo Rd.
Romeoville, IL  60446
(815) 372-0085
(815) 372-0080 FAX