BERWYN, Ill. – State Rep. Elizabeth "Lisa" Hernandez, D-Cicero, hosted a successful Winter Health Fair yesterday with MacNeal Hospital, providing local residents essential diabetes screenings and flu shots.
"I'd like to thank MacNeal Hospital for working with me to provide these services to families in our community," Hernandez said. "Keeping our community safe and healthy is a top priority of mine, and I'll continue to work to connect families to services and resources that help improve their health and well-being."
Hernandez partnered up with MacNeal Hospital to provide free glucose and cholesterol screenings, and to provide local residents information about diabetic eye disease and how to keep their eyes healthy. Additionally, people were also able to receive flu shots in order to gear up for winter and protect themselves and their families.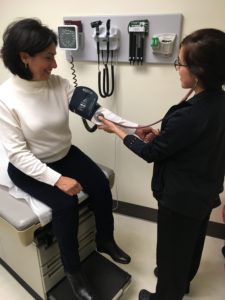 Pictured: State Rep. Hernandez having her blood pressure checked before being screened for diabetes.
Springfield Office:
229-E Stratton Office Building
Springfield, IL 62706
(217) 782-8173
(217) 558-1844 FAX
District Office:
2137 S. Lombard
Suite 205
Cicero, IL 60804
(708) 222-5240
(708) 222-5241 FAX