ELK GROVE VILLAGE, Ill. – Following the repeal of the Cook County beverage tax, state Rep. Michelle Mussman, D-Schaumburg, met with local convenience store owners to assess the economic impact of the failed countywide tax. The tax on beverages in Cook County will end in December, but for some local business owners, the damage may already be done.
"The small business owners and taxpayers of my district were negatively impacted because of residents changing their shopping patterns," said Mussman. "I spoke with store owners to see how much revenue has been lost to surrounding counties between the implementation of the tax and today. The beverage tax was a costly burden for local businesses and working families and we hope shoppers will once again make it a priority to shop local."
Mussman introduced House Bill 4083, which would outlaw the "penny-per-ounce" tax on beverages such as sodas, sport drinks, orange and vegetable juices, certain coffees and teas, flavored waters and diet sodas that was previously in effect in Cook County.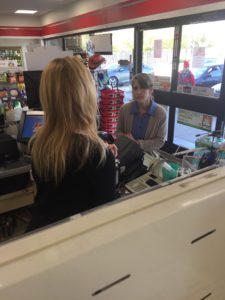 State Rep. Michelle Mussman, D-Schaumburg, met with a store owner in Elk Grove
Village recently to discuss the negative impact of the Cook County beverage tax.
Springfield Office:
257-S Stratton Office Building
Springfield, IL 62706
(217) 782-3725
District Office:
15 W. Weathersfield Way
Schaumburg, IL 60193
(847) 923-9104
(847) 923-9105 FAX