SCHAUMBURG, Ill. – As part of national Read for the Record Day, state Rep. Michelle Mussman, D-Schaumburg, read a story about understanding and acceptance to a kindergarten class at Schaumburg's Campanelli Elementary School on Thursday.
"My favorite part about reading to our children is that it reminds me why I fight so hard for their futures down in Springfield," said Mussman. "I enjoy visiting schools in our community because it gives me an opportunity to reconnect with the needs of our students, teachers, parents and principals."
Mussman participated in Read for the Record Day, an annual initiative to bring attention to inequities in early childhood education, inspire adults to read with children, spur policymakers to take action toward transformative change in early education and to put books in the hands of children across the country. This year's campaign book was Quackers by Liz Wong, a story that teaches the concepts of acceptance, friendship and fitting in.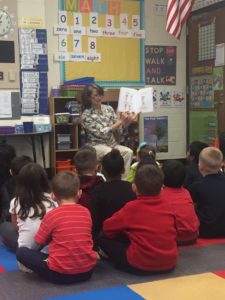 State Rep. Michelle Mussman, D-Schaumburg, read to the kindergarten class at Campanelli Elementary School Thursday.
Springfield Office:
257-S Stratton Office Building
Springfield, IL 62706
(217) 782-3725
District Office:
15 W. Weathersfield Way
Schaumburg, IL 60193
(847) 923-9104
(847) 923-9105 FAX