CICERO, Ill. – State Rep. Elizabeth "Lisa" Hernandez, D-Cicero, is helping students apply for financial assistance through a series of free workshops on Thursday, Oct. 19 and Thursday, Oct. 26, from 11 a.m. to 2 p.m., and by appointment at her district office, located at 2137 S. Lombard Ave., Suite 205 in Cicero.
"Applying to college can be an overwhelming experience, especially for first-generation students who are often unaware of all of the different resources out there to make obtaining a degree more affordable," Hernandez said. "That's why I host annual events like my College for Everyone resource fair, and now I'm partnering up with ISAC to help students complete their FAFSA applications. Whether you're a student, someone who's planning on applying, or just want to learn more about the college financial aid process, our workshop offers something for everyone."
Hernandez is partnering with the Illinois Student Assistance Commission (ISAC) to provide a financial aid advisor to help students complete their Free Application for Federal Student Aid (FAFSA) for the 2018-2019 school year and answer any questions they may have. The FAFSA application period opened in Illinois on Oct. 1, and awards will be made until funds are depleted, so students are strongly encouraged to complete their application as soon as possible. Hernandez hosted her first workshop last Thursday, and will be hosting more on Thursday, Oct. 19, and Thursday Oct. 26.
For more information, or to set up an appointment, please call Hernandez's full-time constituent service office at 708- 222-5240.
What:              College Financial Aid Workshop
Who:               State Rep. Elizabeth "Lisa" Hernandez,
Illinois Student Assistance Commission (ISAC), and local students
When:             Thursday, Oct. 19 and Oct. 26
11 a.m. to 2 p.m. or by appointment
Where:            Rep. Hernandez's District Office
2137 S. Lombard Ave., Suite 205
Cicero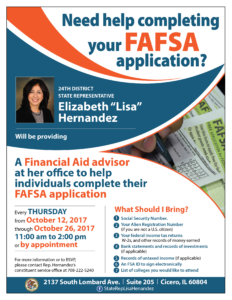 Springfield Office:
229-E Stratton Office Building
Springfield, IL 62706
(217) 782-8173
(217) 558-1844 FAX
District Office:
2137 S. Lombard
Suite 205
Cicero, IL 60804
(708) 222-5240
(708) 222-5241 FAX