DES PLAINES, Ill. – In Response to the newly added tax on sugary beverages in Cook County, state Reps. Marty Moylan, D-Des Plaines, and Michelle Mussman, D-Schaumburg, held an Anti-Sugar Beverage Tax Meeting on Thursday, September 21 at the Elk Grove Park District Building in Elk Grove Village.
"We go door-to-door and many of the residents I have spoken to cannot afford to pay any new taxes." Moylan said last night. "Many people I have spoken to won't even shop in Cook County anymore, they would rather drive down to DuPage County for all their groceries and gas."
At the meeting last night, both Moylan and Mussman discussed their efforts to fight the Sugar Beverage Tax. They highlighted their legislation, House Bill 4083, which would eliminate the beverage tax and prohibit any local government in Illinois from implementing such taxes in the future. Both Moylan and Mussman also pushed their petition calling on the Cook County Commissioners to rescind the tax.
"Businesses are hurting. Especially those near the county line." Moylan said. "I am fighting everyday to create and retain jobs, but this tax is hurting our residents and killing our businesses. We cannot continue to grow job creation with taxes like this."
For more information about this issue, or to sign Moylan's petition against the Sugar Beverage Tax, please call Moylan's full-time constituent office at 847-635-6821 or email StateRepMoylan@gmail.com. You can also sign his online petition by visiting his face book page at www.facebook.com/staterepmoylan55.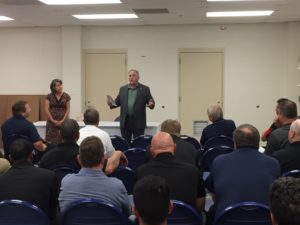 Springfield Office:
200-3S Stratton Office Building
Springfield, IL   62706
(217) 782-8007
District Office:
24 S. Des Plaines River Rd.
Ste. 400
Des Plaines, IL  60016
(847) 635-6821
(847) 635-8565 FAX