ROUND LAKE BEACH, Ill. – State Rep. Sam Yingling, D-Grayslake, joined a broad, bi-partisan coalition of local elected officials and business leaders to learn more about how they can promote and encourage economic growth through tourism Wednesday.
"Last year, tourism contributed over 1 billion dollars to our local economy which helps to sustain over 10,000 jobs," Yingling said. "Visit Lake County's annual event is an opportunity for community leaders and entrepreneurs to celebrate some amazing pro-growth accomplishments and discuss new, innovative ways we can continue to promote our region and state to continue the successful economic momentum."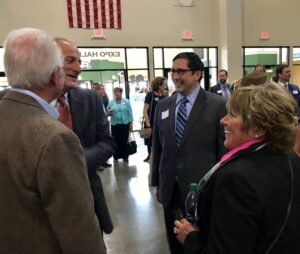 State Sen. Terry Link, State Rep. Sam Yingling and Lake County Board
Member Judy Martini, speak before Visit Lake County's annual event on tourism and economic growth.
Springfield Office:
237-E Stratton Office Building
Springfield, IL 62706
(217) 782-7320
District Office:
1919 IL Route 83
Suite 1
Round Lake Beach, IL 60073
(847) 231-6262
(847) 231-6102 FAX